Nic, Mike and Ara are pleased to announce that Little Wars Melbourne returns for 2014 at a new venue – Kingston City Hall in Moorabbin – on Sunday the 1st of June.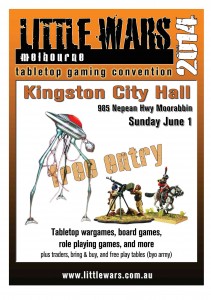 Kingston City Hall provides us with a nice large Hall to play in, has plenty of onsite parking, and is right next to the Moorabbin Train Station on the Frankston Line.
As always, Little Wars relies on the gaming community in Melbourne to get involved in the day.  To us, it's all about being a social event –  sharing our love for our wargames, our boardgames, our rpg's, our models, our cards, our books and our… toys.  The Open Day, as a result, becomes a day of sharing interests, meeting new people and finding old friends.
So the call goes out for all those Gamers out there who would like to get involved – put on a participation game, play a game, or even just come along and have a look, do a bit of shopping with the many traders and at the Bring n Buy. You're all welcome, and we have the room to fit you all in the Main Hall!
If you would like further information, would like to put on a game, or would like to play something in particular, please contact us at: littlewarsmelbourne@gmail.com
or Nic at Eureka Miniatures ( bookings for games and traders): nicr@eurekamin.com.au
Please watch this space for further announcements in the coming months re: updates on Games in particular and Traders attending.  See you there!
About the Author